Mark Vasquez
Class of 2011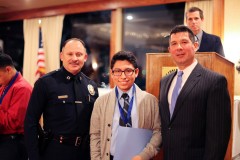 Congratulations to 2011 graduate, Mark Vasquez, for ranking among the top ten academic students in his grade at Bishop Mora Salesian High School. Mark achieved this distinction based on grades at the end of the first semester.
Mark, along with other top ten students, were joined by their families and Salesian faculty and staff for a special ceremony held at Luminarias Restaurant to celebrate their achievement. Captain Martin Baeza of the LAPD Hollenbeck Division, a product of K-12 Catholic schools, was the guest speaker.
The entire Santa Teresita School community is proud of Mark for his continued hard work and demonstration of academic excellence.
Santa Teresita School's mission is "to teach students to know God and the Gospel message of Jesus Christ, to acquire skills and knowledge to be successful in life, and to develop Christian values of respect for self, others and all creation".
Mark is among the many Santa Teresita School alumni who are examples of our mission working in the lives of young people. We wish him and all of our alumni in high school continued success.
We'd like to hear about the achievements of other Santa Teresita School alumni to share with our extended community! Contact us to share your great news.