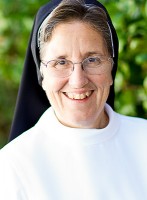 Dear Friends,
Whether you currently have children enrolled or are seeking a school that will provide your child with a quality education, thank you for visiting us today and for your interest in Santa Teresita School!
We are very proud of our students and the warm family spirit of our school community. We are a special part of Santa Teresita Parish and enjoy wonderful support from the Piarist Fathers who staff our parish.
At Santa Teresita School, students receive the invaluable gift of a Catholic education. We help our children to know Jesus Christ and the teachings of our Church. We teach our students the elementary school curriculum based on the Common Core Standards. Our strong focus on spiritual formation and academic preparation truly gives our children a firm foundation for life.
Since 1950 my religious community, the Dominican Sisters of Mission San Jose, has worked with dedicated lay partners to educate hundreds of young people in our parish and the community of Boyle Heights. We have brought the blessings of our 800 year old Dominican tradition to our mission. We work to make our school a community centered in Jesus Christ. We teach truth and the Gospel message. We urge our students to study and to become enthusiastic learners. We encourage our students to pray.
If you are searching for a happy place for your children to learn, I invite you to come and visit us. Come and see the wonderful learning community of Santa Teresita School!
If you are a current parent, I thank you for entrusting your child to us, and I invite you to become involved in our parent activities.
If you graduated from Santa Teresita School, I hope that you will share with us your current contact information, so that we can keep you informed about events at your alma mater.
May God abundantly bless you!
Sister Mary Catherine Antczak, O.P.
Principal